Three reasons make many  great distribution companies choose IMC manufacturing their products.
IMC is premier manufacturer of dietary supplements in Viet Nam.
In 2010, Euromonitor International rated IMC being the biggest trademark about researching and manufacturing of dietary supplements in Viet Nam. Euromonitor International established in 1972 is a prestigious organization in market research and forecast. It has head office at London.
Established in 2003, IMC has been being leader company in creating of natural premium food supplements combined with the quintessence of modern science and technology for 15 years.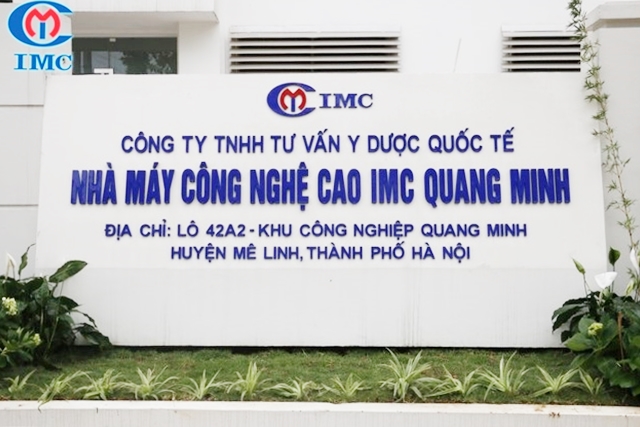 With about 40 high-up dietary supplements which support treatments and prevent different diseases, many IMC's products are considered the prime choice of therapist and numerous patients such as Hoang Thong Phong, Cot Thoai Vuong, Nattopes, Nga Phu Khang, Trang Phuc Linh, Nu Vuong…
IMC owns factories with modern manufacture lines.
High quality products are researched and produced at IMC – Quang Minh high-tech factory.
This is one of the factories of IMC company has just built in Quang Minh Industrial Zone, Me Linh, Ha Noi.
Infrastructure, support systems, production management systems of IMC factories are developed and operated according to GMP principles; modern machinery, experienced and dedicated staffs are important factors in creating high quality and safe products for the community.
IMC controls product quality comprehensively
IMC has pioneered in complying and applying GMP principles in the production of food supplements for 5 years.
IMC has quality management system covering all stages: input materials – extract – production – distribution – customers – assessment of customer satisfaction and complaints handling.
Products manufactured at IMC are monitored quality closely from inputs, in-processes to finished products conforming to basic standards based on national and international ones.In addition to complying with GMP in production and quality management, IMC also applies advanced tools such as Kaizen, 5S … to increase labor productivity so that gives more and more high quality and stability products to customers.
For these reasons, many great companies have –consider IMC as an important partner both in the present and the future, and as the number one priority manufacturer not only for one product but also for other products that will be developed later.
INTERNATIONAL MEDICAL CONSULTANTS CO., LTD. (IMC)
Lot 38-2, Quang Minh I Industrial Zone, Me Linh District, Hanoi, Vietnam
Tel.: 84.4.35 37 72 74
Fax: 84.4.35 37 72 73
Email: info@imc.net.vn
Hotline:+84 91 18 18 018