IMC – Quality is the first
Most of global brand over world must to have premium and creative products that to be loved by end-users. Understanding this matter, IMC's policy "Quality for survival" has been becoming the golden indicator for all company activities for over 15 years.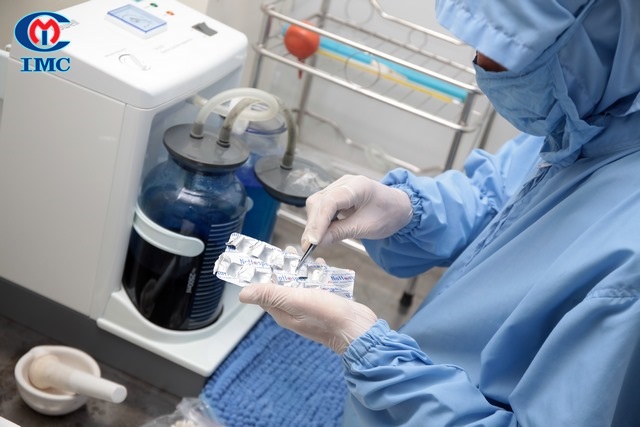 Cot Thoat Vuong, Nga Phu Khang, Hoang Thong Phong which has possessed the longest circle-life among IMC's products list over a decade but have still been "hot" on the functional food market and obtained clients' truth because of the best quality of each tablet produced by IMC system with supporting of leading scientists
What makes quality in International Medicine Consultant enterprise?
In general, there are various of factors that influence to quality. Thanks to rigid procedure IMC can manage and control all phase including R&D stage, reviewing production process, quality control of material entrance, in-line and out-line.
R&D Stage and Set-up production process: All of formulas and recipes were deeply researched in collaboration with leading scientist in field of Research and Preparation, Preventive treatment. That assures that IMC confidently bring to market creative and high effectiveness products that are good at improving immunity and wellness and treatment support.
Human resource: The employee is selected carefully by HR dept. And then the new staff will join a full training following by testing and evaluation to make sure that all knowledge and procedures absorbed and could be applied smoothly in working time.
Infrastructure, factory and equipment: all of things are invested and operated compliance with Asean instruction GMP HS and Ministry of Health. The cleanness of production area is controlled according to D-class. The in-put air is filtered by Hepa H13. In addition, the equipment for production is strictly tested before using and kept maintenance regularly to remain the best working status. Beside of this, the water and air supply system is also checked thoroughly before and during operation.
Controlling In-line and out-put quality: All ingredients are provided from well-known suppliers following by careful evaluated in prior to order and go into production line. The warehouse is operated by GSP system. This results in that the goods stocked in right conditions and get reasonable moving. The production line was set up in such way that instructs worker can monitor the quality in every step. The checking result is able to be save in real-time and that allow to reverse access whole process from beginning to end. 100% of output is analyzed to make sure all products comply with registration before going into market.
IMC take care not only the quality of raw material, sub-products but also the stability of product during shelf-life is being monitored. That is aim to guarantee all products manufactured by IMC to keep best quality on circulation. IMC always listens to customer feedback in order to make improvement day by day.
Establishing QA network in whole system, each staff is considered as quality inspector. Every step has its own standard for quality, speed and budget. That is useful to detect as soon as possible error and solve the problem on time.
"Say no with fault" – Building quality stander in International Medicine Consultant
This rule " Say No with fault" is always keep in mind of all staffs and required by General Director in whole company. The slogan now is becoming more familiar with IMC members.
The new and repetitive training about quality standard, technique, skills, practice and operation are organized every week/month. The factory manager and team leader, IPC directly check the implementation. The good samples of manipulation will be used for next training.
Board of Director and Administration Department frequently hold the culture activities and talking show in that the topic focus on quality policy such as  Kaizen, 5S and customer service… These activities are renovated often based on consolidation, waking-up possibility and responsibility aware on each product and on community as well as creative idea of whole team.
IMC – Reputation brand.
Over 15 years of development, the key factors that make IMC become the leader of functional food manufacture consist of leading in R&D and evaluation efficiency, building factory, applying GMP scientifically and Quality concentration policy. By receiving the truth from both end-user and distributors IMC now is ideal land where excellent functional food products have being born, where its member is proud to work for and to become a part of.