Since the time of establishment of a functional food factory, IMC has had a schedule on building Quality management system and complied with quality policies as well as the principles of the GMP (Good Manufacturing Practices) for dietary supplement in order to provide high quality products which are effective in supporting treatment diseases.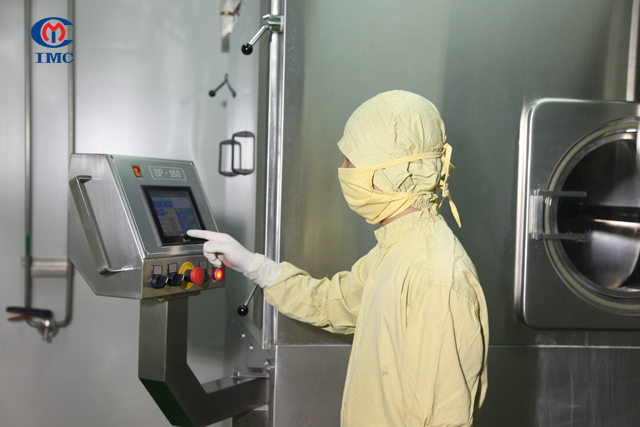 On March 2016, Vietnamese authorities mentioned the regularization of dietary supplement production in the conference "Introduce good manufacturing practice guideline (GMP) for the dietary supplement s" held by Vietnam Food Administration (VAF) – Ministry of Health on March 29, 2016 in Hanoi. The purpose of this conference is to tighten the regulation of dietary supplement production. Because, in fact, there are few dietary supplement manufactures having serious, methodical, and well-funded production, which comply with quality policy like IMC.
In the conference, Assoc. Prof. PhD Tran Dang, Chairman of the Vietnam Association of Dietary supplements, said that Vietnam's dietary supplements market has many issues and uncontrolled problems in regulation. Sanction for manufacturing and trading dietary supplements in Vietnam are too loose because there are no specific regulations on the permitted ingredients in supplements. The status of hand-carried, smuggled, unknown origin dietary supplements … cause damage to national economy and consumers' health.
PhD. Thanh Phong Nguyen, Director of the Vietnam Food Administration, said: Authorities have closed many dietary supplement companies for violating of food safety regulations. These main violations are the difference in concentration of active ingredient with declaration, contamination with microbial like bacterial, fungal, and failing to meet the declared standard of moisture. In many cases, authorities found that some companies only had an office, no factory, but they still declares and launches their product to market.
VAF leaders said that dietary supplement factories that do not get GMP certificate will be closed inflexibly in near future. Accordingly, Dietary supplement factories must be certified GMP compliant before given registration number of product because applying of GMP to dietary supplements will bring many benefits for enterprises and protect consumers.
IMC fully agrees and expects the thorough resolution of authorities to ensure high quality product, consumer rights and in fact, IMC has applied GMP principles for many years, be honored to be the first company that have GMP certified dietary supplements factory in Vietnam.
Prof. Dr. Van Truyen Le, Former Deputy Minister of Health – A Consultant of IMC Systems, said that in order to having GMP certified factory, enterprises should focus not only on investing in building big and beautiful factories but also and more importantly on building quality management  system, developing trained human resource. Prof. Dr. Van Truyen Le also emphasized that the improvement of GMP was an endless process. It had constantly been supplemented to improve the quality of products and manufacturers' reputation because, and oriented towards the interests of consumers. It did not mean the interference set by authorities for enterprises but it was to protect consumers' rights.
According to a prescribed schedule, after consultation with the relevant ministries, committees, enterprises and local authorities, the implication of GMP for dietary supplements will begin from June 2017.