In Viet Nam, no many companies declare their core values which help them to build the mission, cultures, and reflect the company values. But in IMC, The Board of Directors defined clearly 5 core values in the early days of operation. One of the 5 value is high responsibility to the community and the environment.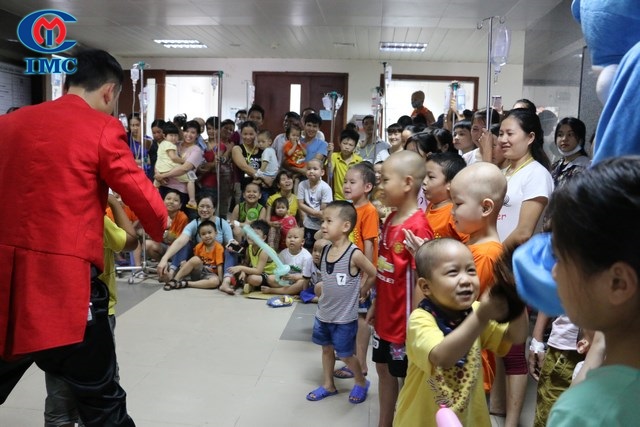 According to the Party committee secretary, Chairman of the Members' Council – Hoang Nguyen Xuan, the concept of social responsibility is no longer new in the world but has been proposed by many large corporations for a long time.  But if many companies consider "social responsibility" as a tool to support the social outside relations of the company (with careers, authorities), to enhance brand identity through sponsorship and charity activities…, IMC considers this core values as a method to train the staff. Why is that?
Because IMC is the manufacturer of health care products having natural origin based on modern technology, closed production lines, and high-quality staffs. Therefore, each IMC individual staff has high responsibility to the social, the community and the environment so that they are fully aware of the obligation to produce effective products in support of treatment and prevention disease through programs: production must be qualified, say no to errors…
Only with high responsibility to the community and the environment, each IMC person is empathies and sincere with the concern of the community for the burden of chronic non-infectious diseases caused by contaminated food.
Therefore, all IMCers are encouraged to take part in company activities for this responsibility such as volunteer programs in ethnic minority and mountainous areas, disadvantaged areas, disaster areas. There are always many individuals registering to support and participate such as the annual Spring Loving Program at SOS Viet Tri Children's Village, Volunteer programs in ethnic minority and mountainous areas in Summer, supporting people in natural disaster areas, supporting patients in hospitals program…
IMC also actively participated in other social activities such as: together building house for the poor in border areas and islands; Accompanying with Vietnamese sports delegations; Preserving the Xam singing through the project of bringing the Xam singing into the school; Clean water for highlands; Spring to school; Connecting with humanity – Towards the future …
These activities of IMC are the clearest evidence for a commitment to high responsibility to the community that the Board of Directors has declared. IMC hopes that, the support of both material and spiritual will bring good values to society and community!