After a year of hard work, IMC system had an opportunity to "Let our hair down" in a very exciting program – Summer Holiday at Nhat Le – Quang Binh. More than we expected, here, IMC employees experienced many emotional states, especially, "laughing our head off" with many extremely amazing games.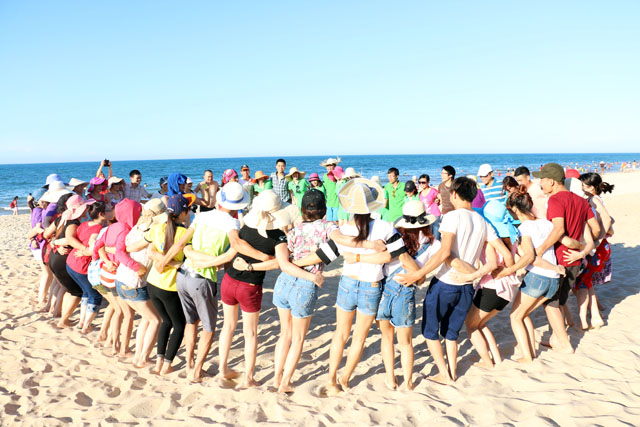 Whenever we go away, there is always a sleepless night before departure time. It is just a feeling of restlessness and excitement when thinking of a promising memorable trip.
As planned, at 6 am we ran into the beach. The more challenging were the games, the crazier we became. We busted into a laugh with many exciting games, including warming up, making up the leaders, tug of war, and the longest game.
After that, The Gala Dinner was extremely fascinating with all sorts of funny words of right or wrong game, human sculptures game, and dancing. The question and answers in rap music style of MC and attendances in question and answer game provided us lots of belly laughs. How contemplative and pastoral was the songs about sea and beach performed by the Administration department and Viet Tri factory. The various styles of different departments brought us different emotions. More surprisingly, the vibrant dancing performance of IMC Quang Minh factory made us felt really excited and exhilarated until the end of the show.
It was thought that the later it got, the quieter it became, and everybody would get tired and go to sleep, but, amazingly, some small separate groups still conducted some additional mini games on the beach to make people more excited.
The trip really sublimated our emotions, we experienced a variety of emotional states: restlessness before departure, embarrassment and excitement with extremely amazing games, laughing a lot with many interesting "home grown, home made" performances; and also unpleasant because Sunrise hotel did not supply good service for guests. "Until now, I have not been surprised yet. To be honest, the trip made me feel really amazing, excited and enjoyable" one staff of IMC Quang Minh High-tech Food Manufacturing Factory said.
To be honest, for all of us, the trip was extremely fantastic and memorable. There are a lot of beautiful memories, interesting experiences, and also some problems need improving … These made an indelible impression on our mind.
Hopefully, more and more meaningful lovely trips will be organized to connect all members of IMC family.
…
International Medical Consultants Company Limited
Address: Lot A2CN1, Tu Liem Industrial Zone, Minh Khai Commune, Bac Tu Liem District, Hanoi, Vietnam
Địa chỉ: Lô A2CN1, Cụm Công nghiệp Từ Liêm, Phường Minh Khai, Quận Bắc Từ Liêm, Thành phố Hà Nội, Việt Nam
International Medical Consultants Company Limited
Address: Lot A2CN1, Tu Liem Industrial Zone, Minh Khai Commune, Bac Tu Liem District, Hanoi, Vietnam
Web: http://imc.net.vn
Điện thoại: +84 (24)35 37 72 74
Fax: +84 (24) 35 37 72 73
Email: info@imc.net.vn
Hotline:+84 91 18 18 018