Product name: Vhealth Food Supplement (Green tea flavor)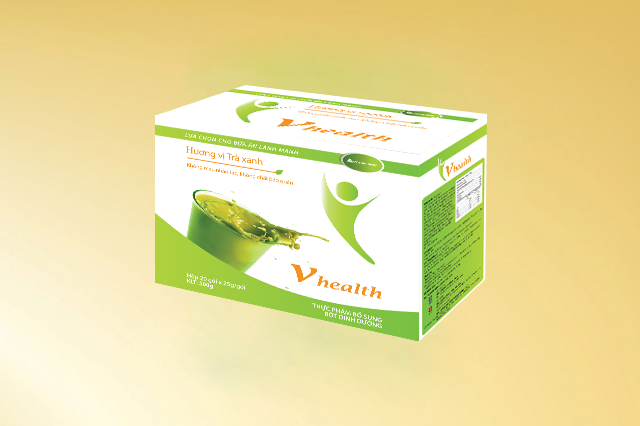 Composition:
Each sachets contains:
Skim milk, Nondairy creamer, Canna starch, Fructose, Isolated soy protein, Oat powder, Isomaltulose, Oligosaccaride, Whey protein, Inulin, Green tea powder, Synthetic green tea flavor, Mono and diglyceride, Immunlata® (Hericium erinaceus and Nannochloropsis oculata powder) 300mg, Xanthangum, Calcium hydroxy apatite (nano size), Astragalus membranaceus extract 120mg (as 455mg herb), Codonosis pilosula extract 100mg (as 645mg herb), IMCDeltaimmune® (cell walls of Lactobacillus rhamnosus) 100mg, Synthetic milk flavor, Sodium chloride, Sodium succinate (as sodium succinate hexahydrate) 100mg, Sodium carboxymethyl cellulose, Citric acid, Panax ginseng 10mg, Magnesium (as magnesium lactate dihydrate), Zinc (as zinc gluconate), Vitamin B1 (thiamin mononitrate), Vitamin B2 (riboflavon).
Usage:
Replace or add the energy for meals, help enhance body's resistance and health.
Used for:
Children and adult. Especially suitable for people who are weak and thin, have been recovered from illness, need to increase the body' resistance. This product can be used for diabetics.
Directions for use:
1-2 sachets/day, dissolve 1 sachet with 50ml hot water, stir and drink.
Can drink hot or cold.
Do not use for children.
Shouldn't use before going to bed.
Registration No.:
45671/2017/ATTP-XNCB.
Packaging:
Box of 20 sachets, 25grams/sachet.
Recommended storage conditions:
Keep in cool, dry place; protect from sunlight.
Best before:
24 months under the previously mentioned conditions and in its original packaging.
Product of:
International Medical Consultants Co., Ltd.
Add: No.9 Lot A, Group 100 Hoang Cau, O Cho Dua ward, Dong Da District, Ha Noi City, Viet Nam.
Produced at:
Auco-pro., JSC.
Add: Lot A2CN1, Tu Liem Industrial Zone, Minh Khai ward, Bac Tu Liem District, Ha Noi city, Viet Nam.
Marketing and distributed by:
Vina-link Group JSC.
Add: Lot C16/D21, Cau Giay New urban area, Dich Vong Hau Street, Cau Giay District, Ha Noi city, Viet Nam.
This product is not a medicine and not intended to replace a therapeutic drug.